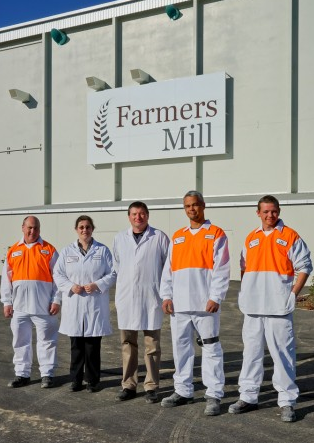 A Flour Miller plays a vital role in ensuring the supply of quality flour and flour related products to bakers and consumers.
A Flour Miller will be responsible for all activities associated with the operation of a flour mill including coordinating raw material and finished product, testing of product, packing milled product and quality control.
They are likely to be accountable for the operation of our equipment, completing necessary quality, health and safety and plant checks, implementing manufacturing processes and supporting production improvement activities. 
Our Flour Millers find their roles varied, challenging, and rewarding.
Below are key responsibilities and tasks of a Flour Miller, and attached is a job summary of any Assistant Miller.
Please do not hesitate to contact us if you are considering a career in the Flour Milling Industry.
---
Key tasks and responsibilities
---
A Flour Miller has a number of key tasks and responsibilities which include:
Liaise with growers to discuss wheat varieties, yields, and attend Industry forums on trials (supported by NZFMA).

Ensure correct grading and storage of wheat at intake, ensure conformity to specification and correct segregation based on protein content and grade of wheat.

Gristing (blending of different wheats) based on external and internal specifications, availability, and pricing.

Cleaning and tempering/conditioning of wheat (conditioning is adding a precise amount of water to the wheat to bring it up to desired moisture content prior to milling). Manage appropriate lying times of wheat after conditioning of the wheat (this is to ensure water penetration evenly throughout the wheat kernel).

Smooth transfer of wheat from gristing plant to the mill. Ensure correct cleaning of the wheat and removal of foreign matter that is classed as non-wheat. Wheat may then go through a second stage conditioning process to bring the wheat to a final desired moisture content prior to milling.

Control the mill process to obtain optimum milling performance, both quality and yield.

Ensure correct flour sampling and testing is done whilst milling.

Ensure correct storage of flour and other added value processes flour may go through to achieve desired finished quality e.g self raising flour, cake flour etc

Packing and blending of flour products based on customer requirements, cost, and quality.

Management of by-products i.e. Broll and Screenings (impurities from grain cleaning).

Technical support for sales and customers