---
---
The New Zealand Flour Millers Association has actively promoted and supported the training and development of industry personnel for many years.  
The Barry Sherris Award was created in 1994 to honour the memory of one of New Zealand's most enthusiastic and committed millers.
Following Barry's untimely death in October of 1993, the Association has chosen to formalise the effort given by many in the industry to training and acknowledge Barry's contribution in the form of this award.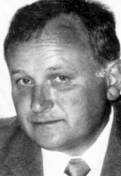 The major thrust of this Award is the desire to promote technical learning and therefore develop industry personnel to achieve world wide best practice.
Those who knew Barry will remember his love of flour milling, his supportive encouragement, and his commitment to ongoing technical training.
Barry spent many hours supporting Flour Milling students marking papers or giving hands on one on one training.  
Two key features of Barry's style were his desire to remain flexible, and his ability to challenge machine design and performance.
He spent many hours optimising mill flows and performance. It is this ability to remain flexible whilst challenging the status quo that the Association wishes to foster.
---
---
Our recent winners of the Barry Sherris Award are:
| | | |
| --- | --- | --- |
| Year | Tier 3 and 2 Winners | Tier 1 Winners |
| 2017 | Greg Tunstall |   |
| 2018 | Jatinda Singh (Tier 2) | Kingi Taia |
| 2019 | Derrick Preston | Aaron Ashe |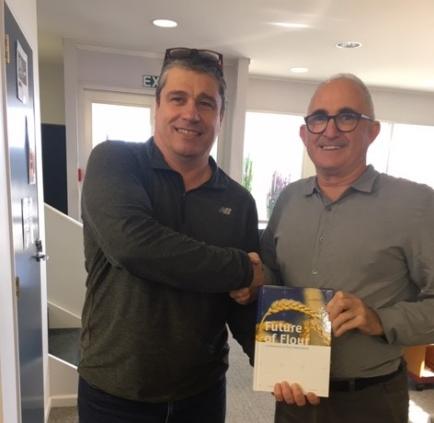 On the right is Derrick Preston being presented with his Award in 2019.
Greg Tunstall, who has had a successful Flour Milling career to date including roles as Operations Manager at Mauri anz, and Mill Manager at Champion Flour Mills described winning the Tier 3 award in 2017 as enabling him "to travel and learn advanced flour milling techniques from "Buhler" in Switzerland. This has always been my long aspiring goal and to finally visiting there and learn from the best was inspirational to say the least.
Being in the class room environment with other likeminded flour millers from around the world was a joy and where everlasting friendship have been bonded. Along with travel to Buhler in Switzerland I had an opportunity to visit Buhler's manufacturing plant in Wuhan, China.
The Chinese market with their massive volumes are incomprehensible from a New Zealand prospective."
---
---
The award has a maximum annual value of NZD $20,000 that must be used for study to increase the knowledge of the award winner. 
Each flour milling organisation paying levies pursuant to the Wheat Industry Research Levies Act 1989 can nominate a candidate for the Award.
The award comprises of a three tier graduated program as follows:
| | | |
| --- | --- | --- |
| Tier 1 | Introductory US / European travel and course | $5,000 to $10,000 |
| Tier 2 | Intermediate US / European travel and course | $5,000 to $10,000 |
| Tier 3 | Advanced US / European travel and course | $20,000 max. |
The nature of the awards for each tier are indicative only.
---
---
To be eligible for selection to be awarded the opportunity to gain further valuable flour milling experience the candidate must:
Have permanent New Zealand residency.

Show the necessary study commitment that is aligned to winning any Barry Sherris award, i.e. NABIM correspondence module course.

Completed the following NABIM modules to be eligible for selection to attend the training courses noted below.

Must be capable of traveling overseas and be capable of representing the industry as an Ambassador.

Within three months of completing their travel or study tour be able to demonstrate to the Association the value they have received from the Award either as a written report, a verbal presentation or a combination of the two as agreed.
The suggested courses are a recommendation and any alternative courses will be considered by the NZFMA Research Committee.
---
---
The NABIM Modules remain the benchmark for recognised qualifications in the industry.
For tiers one and two the only reporting requirement would be for the candidate to attend a meeting of the Management Committee and discuss their course and answer questions.
| | |
| --- | --- |
| Tier 1 Award | NABIM modules 1 and 2 |
| Tier 2 Award | NABIM module 3 as a minimum |
| Tier 3 Award | Completion of NABIM 6 Modules |
The seven NABIM currently on offer are:
 

| | |
| --- | --- |
| Module 1 | Safety, Health, and Hygeine |
| Module 2 | Wheat and the Screenroom |
| Module 3 | Mill Processes and Performance |
| Module 4 | Product Handling, Storage and Distribution |
| Module 5 | Flour |
| Module 6 | Power and Automation |
| Module 7 | Flour Milling management |

NABIM awards a Record of Achievement to students on passing individual modules. In addition NABIM also awards two certificates:
The Intermediate Certificate on passing Modules 1, 2, 3 and 4

The Advanced Certificate on passing all seven Modules.
NABIM Certificates and Medals:
The correspondence course student who scores the highest mark in each modular examination is awarded a NABIM Certificate of Achievement. In addition, two medals are available to all examination candidates, Silver and Bronze. The silver medallist is also invited to write a thesis on an agreed milling topic. If assessed worthy of the award, the NABIM Gold Medal is presented.
---
---
If you have any questions or queries about the award and the application process, please so do not hesitate to contact us.